Description
---
The AC pump motor refers to an AC Motor driving a Hydraulic gear pump assembly. The system pressure is 8-20 Mpa. The flow of the pump ranges from 4 cc to 15cc/rev, and can be widely used in large equipments.
AC Motors are either 220V 1 phase or 380V 3 phase. The motors are the IP55 standard and the aluminum body motor power is 1.5kW,cast iron motor power is 3.7kW.
An aluminum bell-housing encloses an elastic coupling ensuring a mechanical drive with low noise transmission.
Drawing
---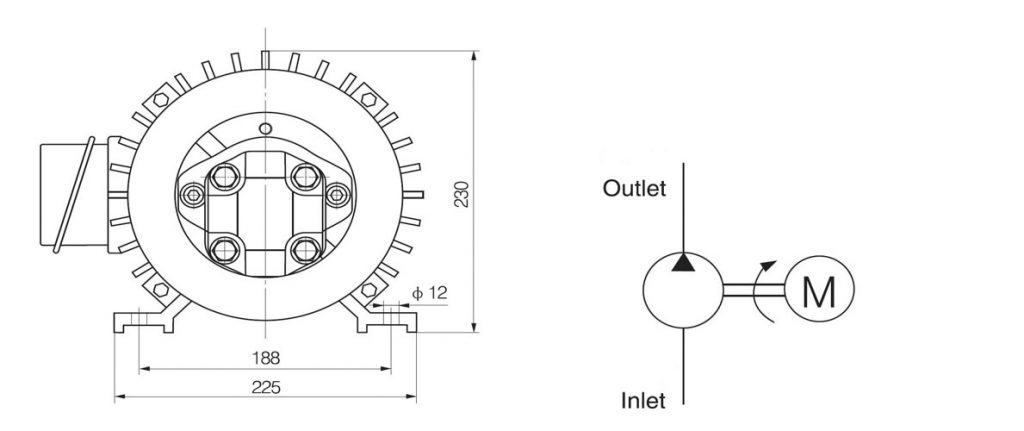 Precautions
---
The power unit is of S3 duty, which can only be worked intermittently, ie., 1minute on and 9 minutes off.

Clean all the hydraulic parts concerned before mounting the power unit.


Viscosity of the oil shoud be 15~68 cst,and the oil should be clean and free of impurities,N46 hydraulic oil is recommended.

The pump station should be mounted horizontally.
Model
Volt engine
motor  Power
Rated Speed
Displacement
System Pressure
AMP-E4A3803H
380 volt AC
1.5KW
1400RPM
4mL/r
14MPa
AMP-F7A3806H
3.7kW
7mL/r
20MPa
AMP-D11A3805H
3KW
11mL/r
10MPa
AMP-C14A3805H
3KW
14mL/r
8MPa
AMP-D15A3806H
3.7kW
15mL/r
9MPa